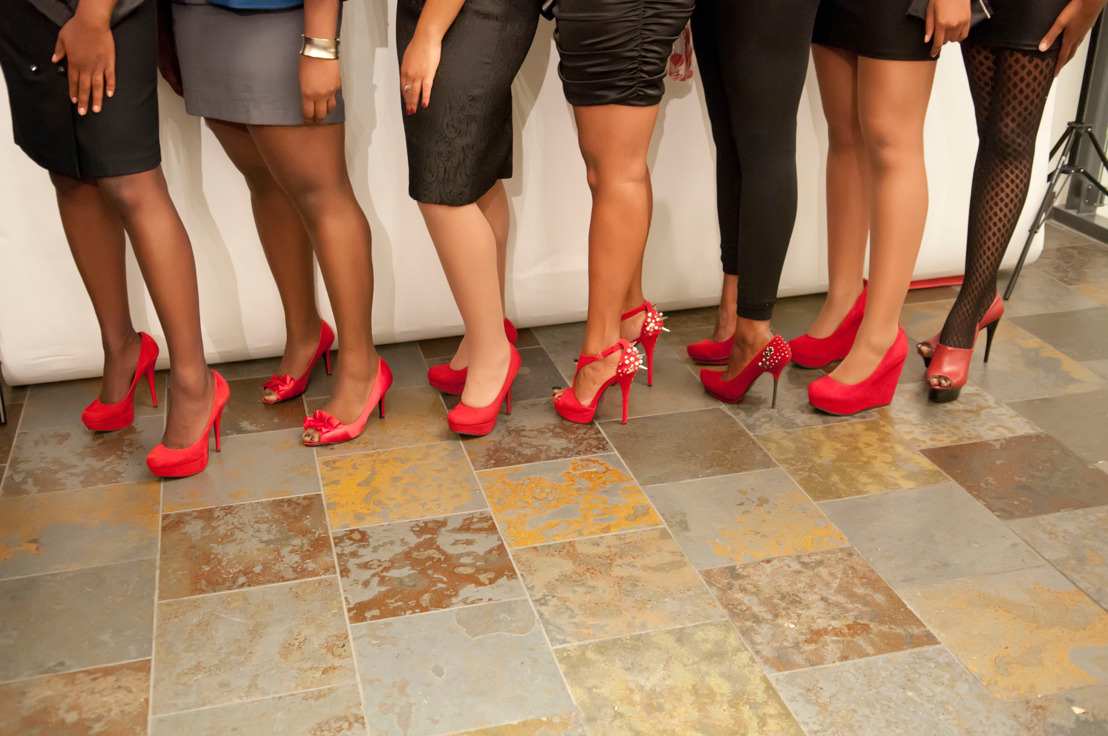 Commemorating World AIDS Day 2015 with Fashionable Elegance at The Red Pump Project's 7th Annual Red Pump/Red Tie Affair on December 5
Charlotte's Most Fabulous Philanthropic Cocktail Party Returns for another Year
Friday, November 27, 2015 — Charlotte's most fashionable cocktail party is back. The Red Pump Project's 7th Annual Red Pump/Red Tie Affair will commemorate World AIDS Day 2015 on Saturday, December 5 from 7:00 p.m. until 10:00 p.m. at UNCC Center City Building located at 320 East 9th Street in Uptown Charlotte. The Affair, which is hosted by Red Pump Charlotte in association with presenting sponsor JSW Media Group, fuses fashion and philanthropy while serving to bring awareness and education about the impact of HIV/AIDS in the Greater Charlotte community.
Guests will enjoy an "Awareness is Power" runway show presented by Carolina Style Magazine featuring the collections of emerging designers DaniLi, Equalnox Clothing Co. and T' Shanell; a cocktail hour with light hors d'oeuvres and libations from BAREFOOT Wine and Bubbly and Olde Mecklenburg Brewery; live musical performances from independent artists ELIAH and Keeyen Martin; and a silent auction where 100 percent of proceeds will benefit those living right here in the Queen City through a variety of programming initiatives planned for 2016.
The evening's most important highlight will be the awards ceremony to honor a female community leader who has dedicated her time and energy to fighting the battle against HIV/AIDS. Each year The Red Pump Award is given to a woman who personifies what The Red Pump Project is all about—delivering education and promoting awareness. Our 2015 Red Pump Honoree Hannah Stutts is a Community-based Testing Grant Coordinator with the Mecklenburg County Health Department, founder of The Voices Project (in association with Regional AIDS Interfaith Network) and co-chair for AIDS Walk Charlotte (2013 and 2014). Stutts is an incredible advocate for HIV/AIDS education, and Red Pump is pleased to honor her work. Past honorees include Rev. Deborah C. Warren (2014) Tarsha' Hamilton (2013), Geneva Galloway (2012), Joanne Stevenson Jenkins (2011), Dee Dee Richardson (2010) and DeVondia Roseborough (2009). The Red Pump/Red Tie Affair is a signature event for The Red Pump Project and helps further its mission to raise awareness about the impact of HIV/AIDS on women and girls, ensuring that women are empowered with accurate knowledge about the disease and the issues surrounding it.
Hip Hop Legend Edward "Special Ed" Archer and television/media personality Kendra James will co-host this year's Affair, with DJ A Rock providing the musical backdrop for the evening. Attendees will enjoy a red carpet experience socializing with special invited guests and networking with some of Charlotte's notable entrepreneurs, philanthropists, media personalities, socialites and tastemakers. The Red Pump Project will "party with a purpose" to raise awareness and funds. Ticket prices range from $40.00 to $75.00 per person. Cocktail attire is required. Red pumps and red ties are strongly encouraged. Remember, "Awareness is Always In Style."™ Tickets are available online at http://redpumpredtieaffair.eventbrite.com.
The 7th Annual Red Pump/Red Tie Affair is sponsored by JSW Media Group, BAREFOOT Wine and Bubbly, James Lester, Olde Mecklenburg Brewery, National Coalition of 100 Black Women (Queen City Metropolitan Chapter), Signature Event Bags, Carolina STYLE Magazine, dupp&swat Creative Studio, Media Arts Collective, CapturedByKevin.com, Suite929.tv, Accenture, Interior Motives by Will Smith, and Ben Clark Designs.
For interviews and other media inquiries, contact Jameka Whitten at Jameka@redpump.org or 704.965.3297. To learn more about Red Pump, visit www.redpump.org.
6th Annual Red Pump/Red Tie Affair